Here is how you can make your Windows PC Better for Gaming
Microsoft has been continuously developing its operating system to make it the best system for gaming. Microsoft has been a clear winner for a long time regarding dominating the market. But before the release of Windows 11, some speculations questioned whether Windows was the best gaming system. There were suggestions that since the majority of people use a Windows system for their general use, they inevitably, out of compulsion, use the same system for gaming as well. Developing different systems for different uses is very costly.
Research suggests that: Microsoft Windows has been optimized for usability and compatibility, which is why it controls 76.45% of the market share. Microsoft Windows has been in the market for almost thirty years now, and its ability to be compatible with high-end and low-end devices gives it a push start. Moreover, since many users have their hands on Microsoft devices, most game developers also optimize their games for the Windows platform.
Due to these factors, according to some, the popularity of Windows in PC gaming is primarily credited to the monopoly that it holds in the market.
Before the release of Windows 11, many points were pointed out by the gaming community that made Windows 10 a bad option for gaming. One of the most famous comparisons was with Linux. Linux outperformed Windows 10 in one of the most popular multiplayer games in the world: CSGO.
But now, Windows 11 has brought upgrades that improve the PC gaming experience to a great extent. There have been several performance optimizations, and new features have also been added.
The first fresh update is the new Controller Bar. This is used to access and open your most recent games easily.
How to activate the Controller Bar?
To activate the controller bar, a user must connect their Xbox controller with their system that runs on Windows 11.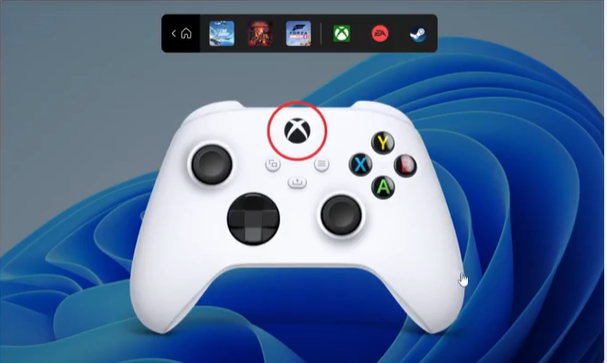 Now by pressing the Xbox controllers button, the controller bar can be seen as shown above. The controller bar helps you navigate easily through your recent games and acts as a game launcher.
Apart from this, Windows 11 allows you to fix the problem of lagging during games. The recent updates have drastically improved display latency. Moreover, the new updates improve on variable refresh rate and Auto HDR.
Moreover, as previously mentioned, most games are optimized for Windows due to Microsoft's dominance in the market. Windows 11 has a feature that allows access to several high-quality PC games.
A user can enjoy this vast library of games by simply using the Game Pass that can be accessed through the Xbox app available on Windows 11.
A user must be a member to sign in and access these 100-plus games. However, if one finds themselves skeptical of this idea, they can browse through the catalog and make a decision accordingly.
As seen above, a user can freely browse through the games available that are carefully categorized.
With the Game Pass, a user can also access games from Xbox Game Studios on the same day of release. Furthermore, games from other franchises like Softworks, Elder Scrolls, and EA Play Library can also be accessed. The list keeps on updating as new games are added.
Another feature that has allowed gaming to be available to even users who are not seasoned gamers is the New Gaming Features for Microsoft Edge. Most people find the task of creating a whole gaming environment before actually starting to get into this field very exhausting. Hence even people who are interested in gaming, due to the efforts required, avoid this field. But now, credit to the Microsoft Edge feature, access to gaming can be rapid.
Microsoft claims that they have made improvements that make Microsoft Edge the "best browser for gamers."
Open the Microsoft Edge homepage, and go to the "Gaming" tab. This homepage leads a user directly to a personalized experience. The home page has relevant stories that enable users to explore their preferred gaming style and, using the guidance available, can attune themselves to this industry. Moreover, the new Games menu on the homepage enables one-click access to free casual and arcade games.
The home page also has easy access to the Xbox Cloud Gaming Library.
In addition, Edge provides features like a built-in Clarity Boost that makes gameplay from the cloud look sharper and more precise when playing Microsoft Edge—reiterating my point of ease of getting into the gaming environment. Since gameplay from the cloud does not require much investment, the ease of adapting can be seen.
These recent updates have further solidified Windows's position as the best operating system for gaming, and continuous work is being done to enhance the experience further.